Santorini Cruise Port: 4-Hour Private Caldera Cruise with Luxury Catamaran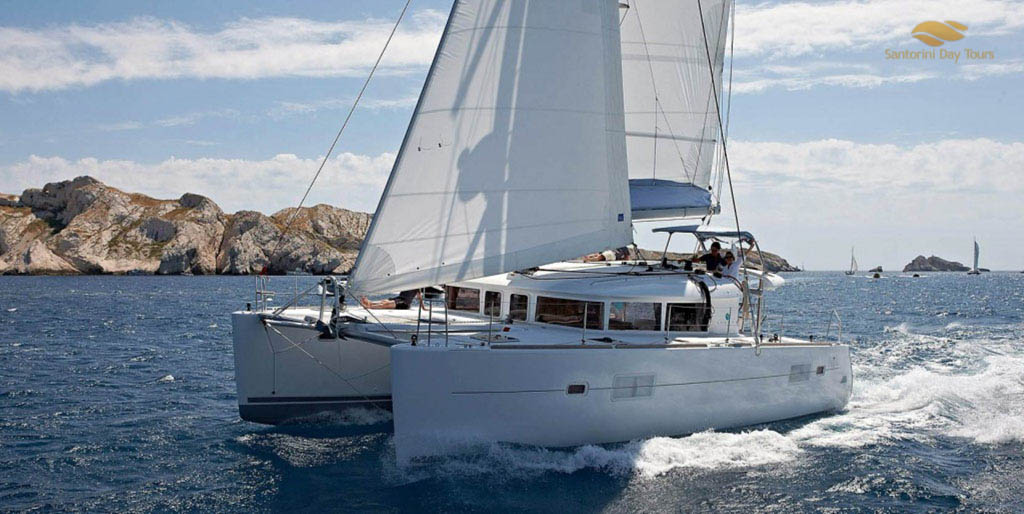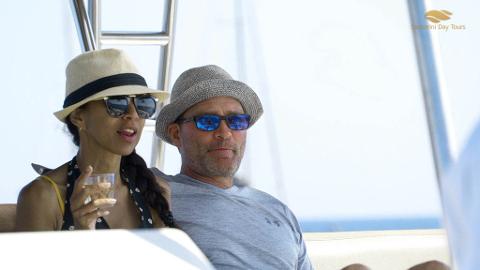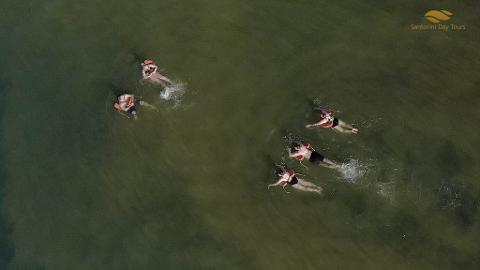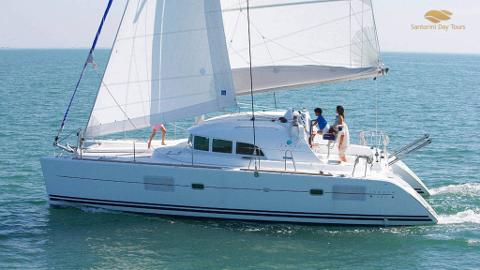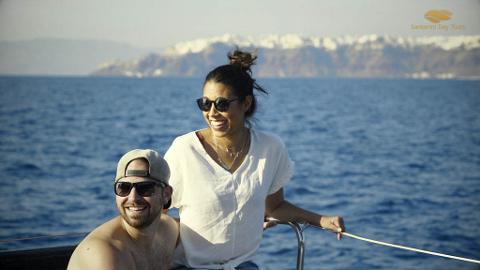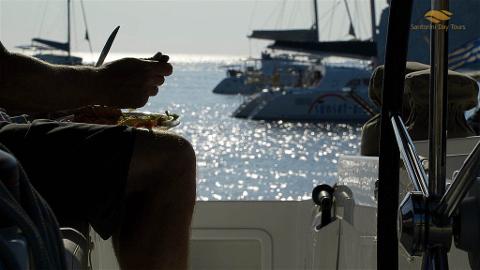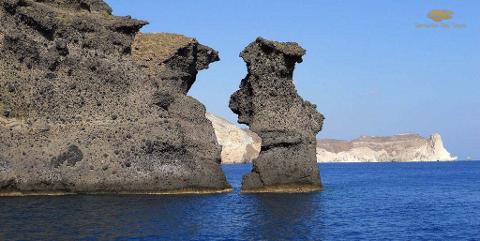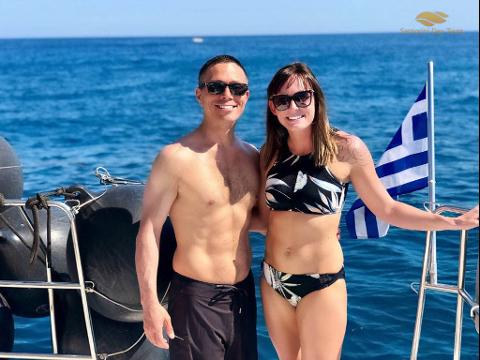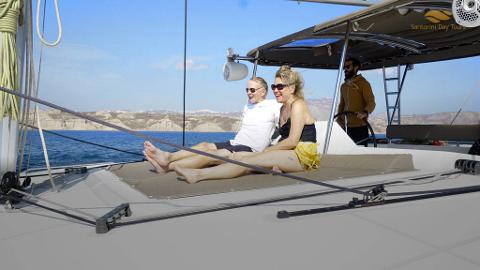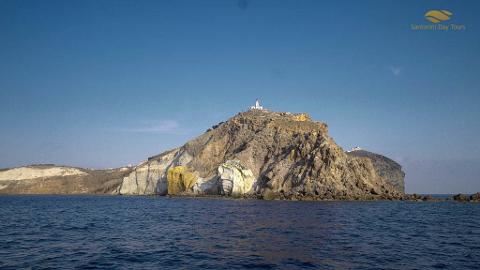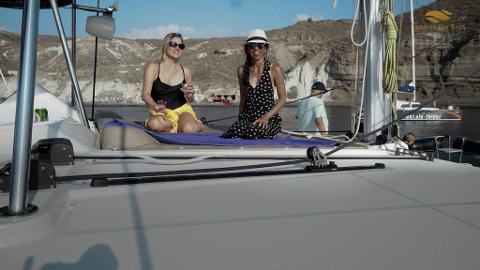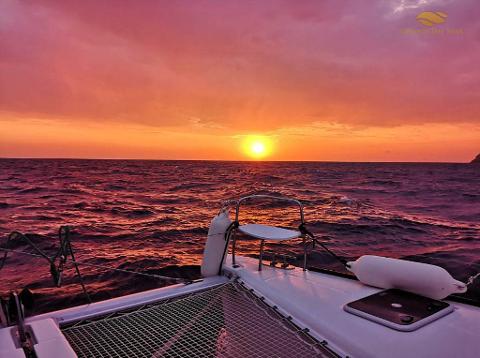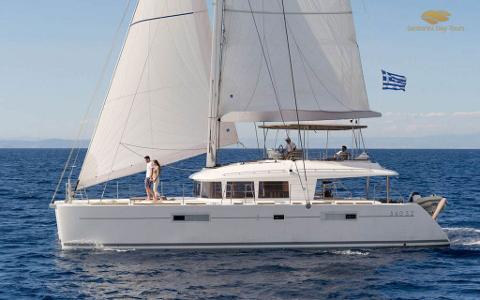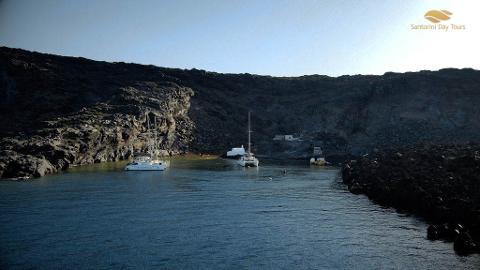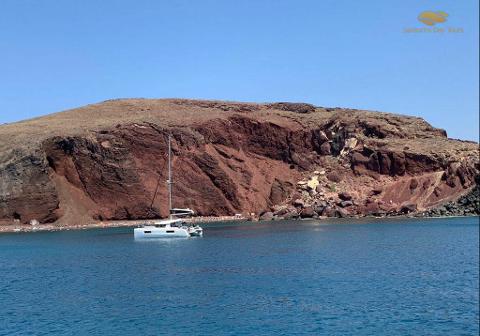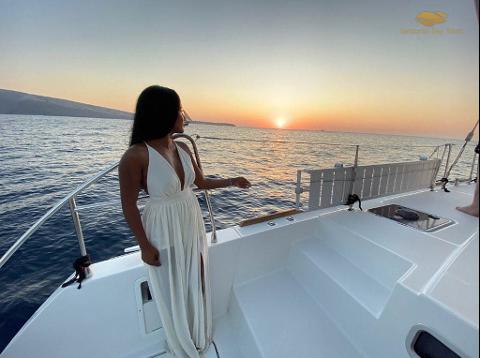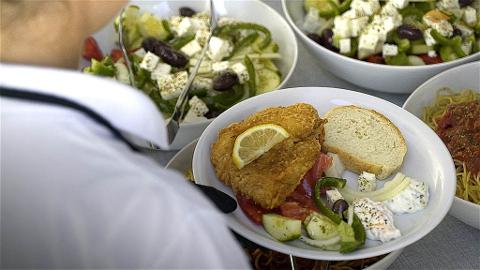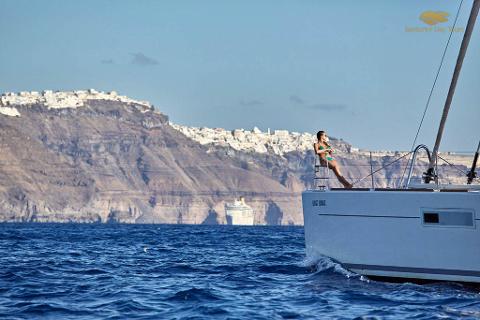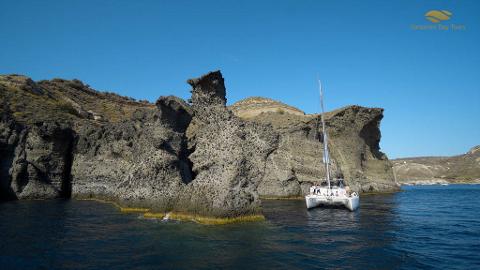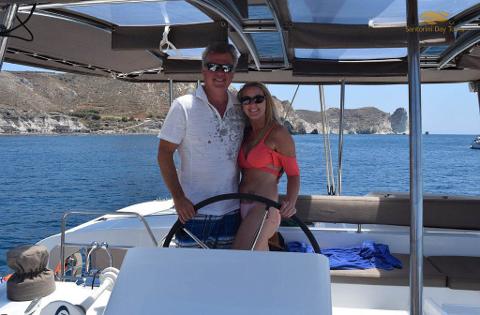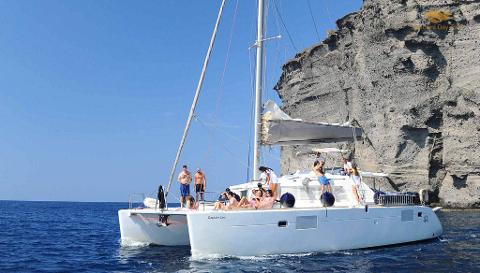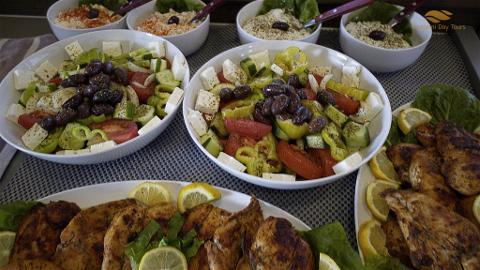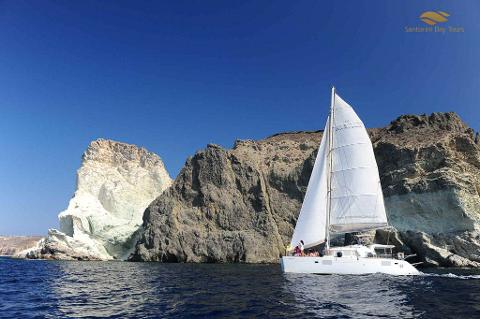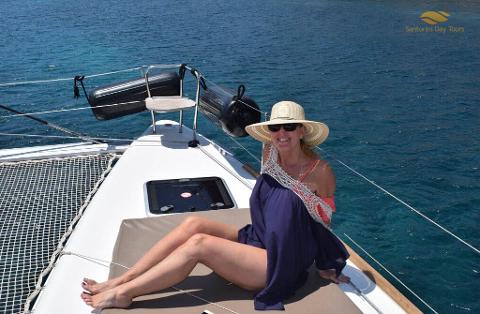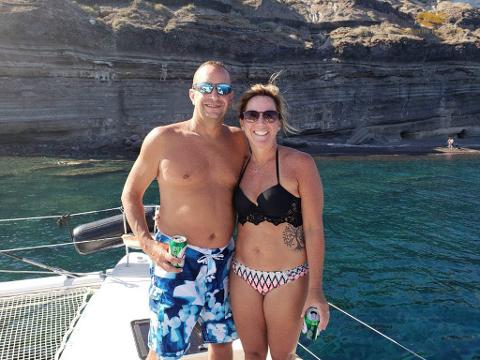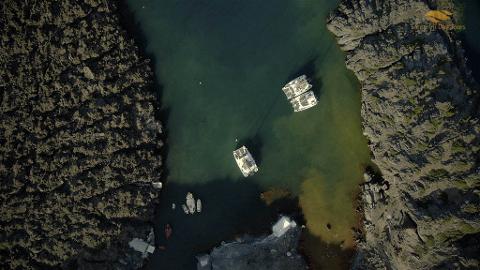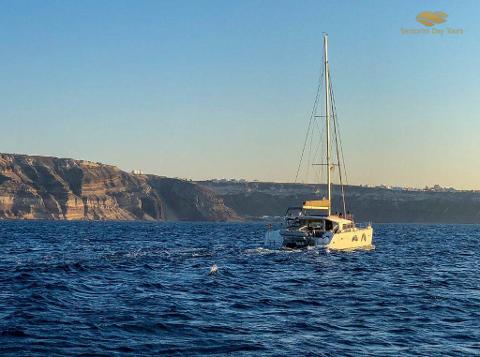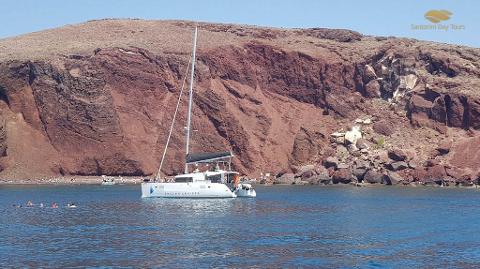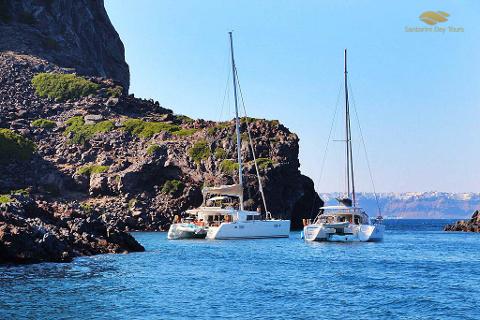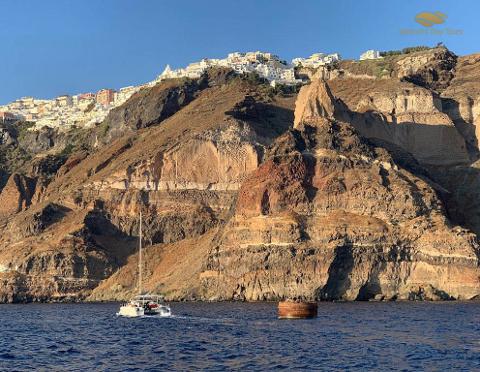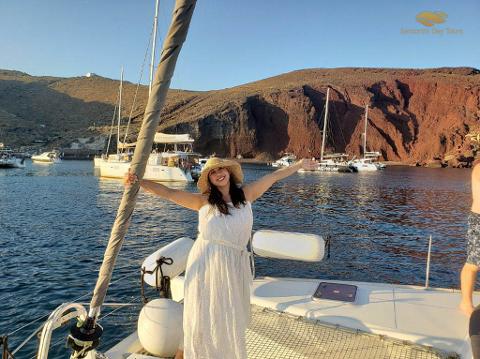 Duration: 4 Hours (approx.)
Product code: PMXANY
Starting from the cruise port, board your private catamaran to enjoy sailing around the Aegean waters of Santorini on a 4-Hour morning or sunset private boat tour.
Choose from a daytime or sunset cruise, then laze on deck and soak up the sun and scenic sights as you glide across the open waters of the Aegean Sea on the south coast of Santorini.
Anchor at the Red beach for snorkeling, swimming or sunbathing.
After enjoying the south coast of Santorini, head to the volcanic lagoon of Santorini known as the "Santorini Caldera".
Sail around the volcanic islands of Santorini – Nea and Palea Kameni and enjoy a short stop or a swim/volcanic bath in the sulfurous warm springs of the volcano, where parts of the water are warmer due to volcanic activity.
Head to a secluded bay of the Santorini lagoon and enjoy another swim or simply relax on the decks as the crew prepares a delicious Greek meal BBQ Chicken, Pasta with seafood or shrimp, Greek Salad, and spreads. Compliment your meal with a drink such as Greek wine, beer, or soda.
If you've selected the sunset cruise, be astounded by the sight of the caldera bathed in dreamy, golden light.
When our Santorini private boat tour with a luxury catamaran ends, you will return back to the old port of Fira/Thira town, known as the cruise port of Santorini.
Highlights:


Cruise during daytime or sunset time around Santorini on board a modern private catamaran yacht.
Enjoy swimming and snorkeling and get some sun at the Red beach.
Enjoy a swim at the warm springs of the Santorini volcano, where parts of the water are warmer due to volcanic activity.
Dine on a fresh-prepared Greek meal including BBQ chicken, Pasta with seafood or shrimp, spreads, and Greek salads accompanied with wine & Greek beer. or sodas.
Capture stunning panoramas of picturesque Santorini during daytime or sunset time while sightseeing from the water.
What's Included:
Professional Greek skipper and crew
Complimentary drinks during meal time (white wine, Greek beer, sodas, and mineral water)
Snorkeling equipment (snorkel mask)
Beach Towels
Restrooms / Changing room / WC
Greek meal served on board includes BBQ chicken fillets, Pasta with seafood or shrimp, Greek salad, pasta, bread, and spreads



Not Included:
- Gratuities (Optional)
- Cable car tickets (not required for cruise passengers)


Good to Know:


This is a 4-Hour private daytime or sunset cruise onboard a modern private catamaran.
Drinks such as wine and beer are being offered complimentary from the crew while on board, under a moderate consumption, and within alcohol safety limits scheme, of up to 4 units of beer or wine per person.
The catamaran vessel that is used on this tour is motor-powered. Its sails might or might not be used/opened, subject to weather conditions, and the captain's judgement. This is a gentle note for guests that are opting for a pure sailing experience onboard a non-motorised sailing boat.
The alcoholic drinks served on board are only white wine and beer.
Please wear only dark-colored or black swimming suits, as the sulfurous waters at the Palea or Nea Kameni volcano (warm springs) may alter the color of your swimming suit.
The size of the catamaran vessel used for this trip varies from 40 to 42 feet.
Santorini Day Tours reserves the right to sub-charter additional vessels/operators for this trip, whereas the exact same offerings, boat size, and itinerary/stops will be applied/included as per the original description advertised.
Depending on weather conditions and the captain/skipper's judgement the final itinerary may slightly differ from the original in a continuous effort to offer the best possible service/experience on the water to all of our guests and/or for safety reasons.
Beach towels are being provided onboard the catamaran cruise.
The catamaran vessel has WC that can be used both as a restroom and/or changing room.


Payment Information:
Our e-commerce website accepts payments with all major credit cards and PayPal, the booking process is seamless – it should only take a moment to book any of our experiences online.
In case you are trying to book one of our experiences through our website and your transaction is not successful you may try booking by using a different card, pay with PayPal or get in touch with your bank/credit card issuer to describe them the situation and kindly ask them to release any restriction they might have placed on your card or our website.
From our experience, we have noticed that there are times that overseas banks/credit card companies place a short of security on overseas web transactions, as a measure of extra protection for the cardholder.
Again, if the problem persists please try using a different card or select the Pay with PayPal option on our website.
Even if you do not have a PayPal account, PayPal acts similarly as a credit card and pulls up a credit card processor to enter your card number.
Payments with PayPal seem to work well in such cases where credit cards fail.
Rates:
May to October (High Season)
10 am Private Cruise: €1800 EUR / total Up to 4 Travelers
3 pm Private Cruise: €1800 EUR / total Up to 4 Travelers
Additional Travelers: €150 EUR / person