Santorini in a Day: 6-Hour Best of Santorini Private Tour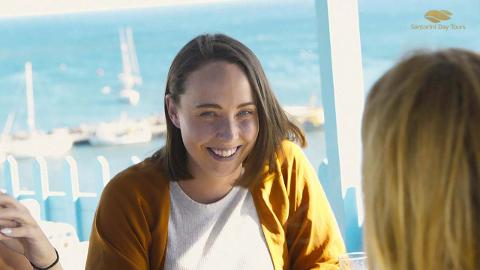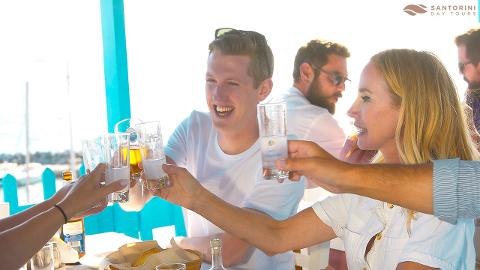 Duration: 6 Hours (approx.)
Product code: PGZZBA
Enjoy the wonders of Santorini with a personal modern air-conditioned minivan and a private driver guide. Customize your own itinerary, explore as you wish, and see all that the island has to offer on a half-day private tour. See the highlights of this wonderful island, from stunning natural wonders to idyllic towns and traditional wineries.
From black- and red-sand beaches to charming villages and incredible views from its caldera, Santorini is renowned as the gem of the Aegean Sea. This tour allows you to see Santorini at your own pace, with a private expert local driver-guide to lead the way, taking you to wherever and whatever interests you along with visits at the most famous sites of Santorini.
Meet your private driver-guide and modern vehicle at the location of your choice and discuss your ideal itinerary. Whether you have something in mind or would like your driver to take the lead and give tips and recommendations—your needs are catered to.
Visit sites like the village of Oia with its whitewashed houses and winding streets. See the archaeological site of Akrotiri, a prehistoric village preserved in volcanic ash. Or head up to the Prophet Elias Monastery, the peak of the island, for stunning views of the Aegean coast and to meet the resident monks. Ask your driver-guide to take you off the beaten path to spots often missed by visitors, and discover the real Santorini.


Highlights:



Spend a day exploring Santorini with a private driver guide and a modern a/c minivan.


Enjoy a flexible itinerary and customize your own sightseeing trip.


See top Santorini attractions such as Akrotiri* and the villages of Pyrgos and Oia or enjoy a wine-tasting at a traditional winery.


Relax at the black sand beaches of Kamari and Perissa.


Gain insider knowledge about Santorini's hidden gems.


Let your private driver arrange the logistics and scheduling details.


Flexibility to customize your own itinerary.


The comfort of touring in a private a/c modern minivan with a designated professional driver guide.





Sample Itinerary: Half-Day Tour (6-Hours)



Visit the charming town of Oia, nestled on the cliff sides.


Photo Stop at the Blue Dome Church in the artisan neighborhood of "Firostefani".


Enjoy scenic views of Mt. Prophet Elias, the highest peak of the island, above Pyrgos village.


Drive until the Venetian lighthouse in the south corner of the island and capture the panoramic scenery of Santorini and the nearby volcanic islands.


Visit the Black sand beach of Perissa, enjoy optional free time for a stroll in the black volcanic sand, and enjoy a swim or a meal/snack (extra cost).


Enjoy a wine-tasting at a traditional cave winery (optional stop, upon wine interest, can be replaced or skipped).


Optionally during the duration, of your private tour lasts enjoy free time to incorporate a meal at a local restaurant for an authentic & local experience (extra cost, on your own).


The above sample itinerary can be tailored according to your preferences on the spot to include/exclude additional stops as long as the total duration of the trip remains up to 6-Hours.


Included:


Pickup & return from your Hotel or Cruise port (meeting point at the top of cruise port's cable car) or Airport.


Half-day (6 Hours approx.) private tour with private driver-guide.


Transport by air-conditioned Mercedes-Benz modern minivan.


Mineral water (0.5lt bottle per person).


Not included:


Admission fees (when applicable) to the museums & Akrotiri Excavations (optional stops).


Wine tasting fees at the wineries (optional stop).


Food, drinks, and personal expenses, unless specified.


Guided tours inside museums & ancient sites unless specified.


Information about Akrotiri:

Inside official Greek Ancient Sites such as Akrotiri in Santorini and Parthenon (Acropolis) in Athens, only official Greek Archaeologists have permission to guide.
During your private tour you can definitely be offered a drop-off at the site
of Akrotiri by your driver, wander inside on your own, and once you finish your
visit be collected by your driver to continue your private tour. Your private driver guide is not permitted to guide you inside the actual site or the ruins.
Additional Info
If you are coming to Santorini from Athens via plane for a day trip, the tour can offer you a complimentary airport pickup and drop-off service.
In case your group consists of more than 30 travelers and for any other special traveling requirements, please contact us at info@santorini-privatetour.com
Payment Information:
Our e-commerce website accepts payments with all major credit cards and PayPal, the booking process is seamless - it should only take a moment to book any of our experiences online.
In case you are trying to book one of our experiences through our website and your transaction is not successful you may try booking by using a different card, pay with PayPal or get in touch with your bank/credit card issuer to describe the situation and kindly ask them to release any restriction they might have placed on your card or our website.
From our experience, we have noticed that there are times that overseas banks/credit card companies place a short of security on overseas web transactions, as a measure of extra protection for the cardholder.
Again, if the problem persists please try using a different card or select the Pay with PayPal option on our website.
Even if you do not have a PayPal account, PayPal acts similarly as a credit card and pulls up a credit card processor to enter your card number.
Payments with PayPal seem to work well in such cases where credit cards fail.